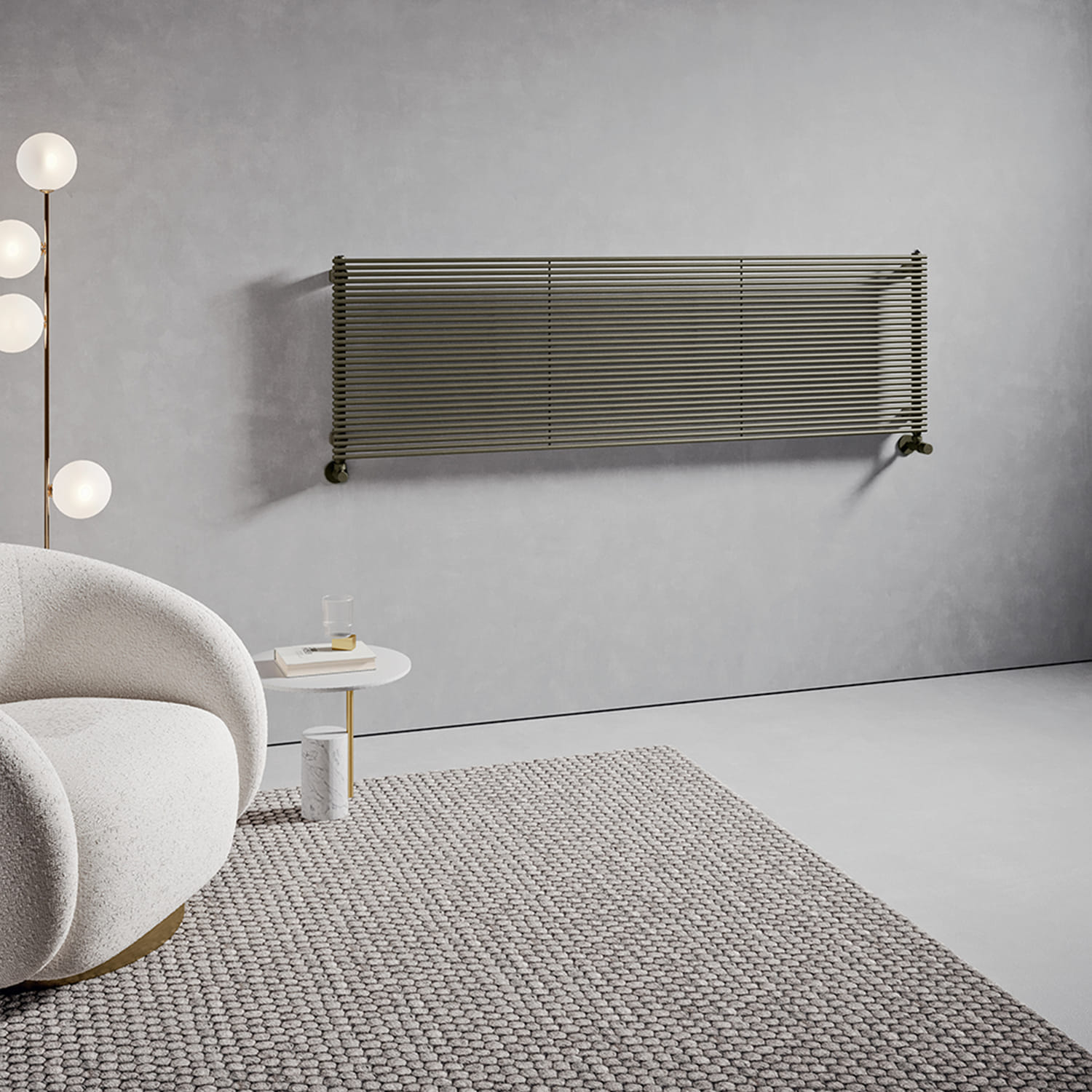 ARPA 12 orizontală reprezintă evoluția mobilarea estetic radiatorului, datorită extensiei sale longitudinale și la profilul patrat al elementelor. Fiecare cerință caloric este îndeplinită de modularitatea și lățimea intervalului. 15 sunt propunerile latimi, de la 4 la 60 de elemente.
Caracteristici Tehnice
colectoare rotunde cu diametrul de 30 mm
elemente de oţel cu diametrul 12 mm
filetări la extremităţile colectorului, 1/2" G dreapta
presiunea maximă de lucru admisă 10 bar
temperatura maximă de lucru admisă 95°C
VERSATILITY
The Arpa 12 radiators range is divided into: vertical and horizontal, double and single, with elegant wall mounting in typical Irsap style in colors that match the radiator, painted and finished in every part.
Culori e finisaje
| Model | Deph  (mm) | Lenght (mm) | Conn. C. (mm) | Weigth (kg) | Capacity (lt) |
| --- | --- | --- | --- | --- | --- |
| 520 | 40,0 | 520 | 470 | 0,23 | 0,06 |
| 550 | 40,0 | 550 | 500 | 0,24 | 0,06 |
| 650 | 40,0 | 650 | 600 | 0,27 | 0,07 |
| 670 | 40,0 | 670 | 620 | 0,27 | 0,07 |
| 700 | 40,0 | 700 | 650 | 0,28 | 0,07 |
| 750 | 40,0 | 750 | 700 | 0,29 | 0,07 |
| 850 | 40,0 | 850 | 800 | 0,33 | 0,08 |
| 870 | 40,0 | 870 | 820 | 0,34 | 0,08 |
| 920 | 40,0 | 920 | 870 | 0,35 | 0,09 |
| 1220 | 40,0 | 1220 | 1170 | 0,45 | 0,10 |
| 1520 | 40,0 | 1520 | 1470 | 0,54 | 0,13 |
| 1820 | 40,0 | 1820 | 1770 | 0,64 | 0,15 |
| 2020 | 40,0 | 2020 | 1970 | 0,70 | 0,17 |
| 2220 | 40,0 | 2220 | 2170 | 0,77 | 0,18 |
| 2520 | 40,0 | 2520 | 2470 | 0,87 | 0,20 |
Graţie prestaţiilor ridicate ale corpurilor încălzitoare Irsap ARPA 12 Orizontal, se consideră ideale pentru proiectarea la joasă temperatură un Δt la 30°C
Pentru Δt ≠ de 60˚C utilizaţi formula: Q=Qn (Δt / 60)n
Standard equipment
• kit "chela" pentru fixare pe perete dotate cu șuruburi și dibluri • dop de 1/2" • elemente de acoperire • aerisitor 1/2" cromat
| | | | | | | | | | | | | | | | | | | | | | | | | | | | | | |
| --- | --- | --- | --- | --- | --- | --- | --- | --- | --- | --- | --- | --- | --- | --- | --- | --- | --- | --- | --- | --- | --- | --- | --- | --- | --- | --- | --- | --- | --- |
| Number elements | 4 | 6 | 8 | 10 | 12 | 14 | 16 | 18 | 20 | 22 | 24 | 26 | 28 | 30 | 32 | 34 | 36 | 38 | 40 | 42 | 44 | 46 | 48 | 50 | 52 | 54 | 56 | 58 | 60 |
| Thermal Power linear mt. Watt a Δt=60°C | 279,7 | 341,2 | 402,6 | 463,9 | 525,0 | 585,4 | 645,5 | 705,3 | 766,7 | 828,1 | 882,7 | 945,4 | 1.006,1 | 1.065,0 | 1.121,7 | 1.176,4 | 1.228,9 | 1.279,7 | 1.328,6 | 1.375,4 | 1.420,5 | 1.468,4 | 1.514,9 | 1.559,8 | 1.603,3 | 1.645,2 | 1.685,9 | 1.725,0 | 1.762,9 |
| Thermal Power linear mt. Watt a Δt=50°C | 221,0 | 269,7 | 318,5 | 367,2 | 415,9 | 464,7 | 513,4 | 562,1 | 610,8 | 659,6 | 708,3 | 759,3 | 808,7 | 856,7 | 903,1 | 948,0 | 991,3 | 1.033,2 | 1.073,7 | 1.112,6 | 1.150,2 | 1.186,3 | 1.221,1 | 1.254,5 | 1.286,6 | 1.317,3 | 1.346,8 | 1.375,0 | 1.402,0 |
| Thermal Power linear mt. Watt a Δt=40°C | 165,7 | 202,3 | 239,1 | 275,9 | 312,8 | 350,3 | 387,9 | 425,8 | 462,5 | 499,3 | 541,1 | 580,6 | 619,0 | 656,4 | 692,6 | 727,9 | 762,1 | 795,2 | 827,3 | 858,3 | 888,3 | 913,7 | 937,9 | 960,9 | 982,8 | 1.003,5 | 1.023,2 | 1.041,7 | 1.059,3 |
| Thermal Power linear mt. Watt a Δt=30°C | 114,2 | 139,7 | 165,2 | 190,8 | 216,6 | 243,3 | 270,3 | 297,6 | 323,2 | 348,7 | 382,3 | 410,8 | 438,5 | 465,6 | 492,0 | 517,8 | 542,9 | 567,4 | 591,2 | 614,2 | 636,7 | 652,6 | 667,5 | 681,4 | 694,5 | 706,6 | 717,9 | 728,3 | 738,0 |
| Thermal Power linear mt. Watt a Δt=20°C | 67,6 | 82,8 | 98,1 | 113,5 | 129,0 | 145,6 | 162,5 | 179,7 | 195,0 | 210,2 | 234,4 | 252,3 | 269,8 | 287,0 | 303,8 | 320,4 | 336,7 | 352,6 | 368,1 | 383,3 | 398,2 | 406,1 | 413,3 | 419,8 | 425,7 | 431,0 | 435,7 | 439,8 | 443,4 |
| Exponent | 1,292 | 1,289 | 1,285 | 1,282 | 1,277 | 1,267 | 1,256 | 1,245 | 1,246 | 1,248 | 1,207 | 1,203 | 1,198 | 1,194 | 1,189 | 1,184 | 1,179 | 1,173 | 1,168 | 1,163 | 1,158 | 1,170 | 1,182 | 1,195 | 1,207 | 1,219 | 1,232 | 1,244 | 1,256 |
Height (mm) sub>
N° Elements
520
550
650
670
700
750
850
870
920
1220
1520
1820
2020
2220
2520
76
4

Watt =

W =

145

154

182

187

196

210

238

243

257

341

425

509

565

621

705

112
6

Watt =

W =

177

188

222

229

239

256

290

297

314

416

519

621

689

757

860

148
8

Watt =

W =

209

221

262

270

282

302

342

350

370

491

612

733

813

894

1014

184
10

Watt =

W =

241

255

302

311

325

348

394

404

427

566

705

844

937

1030

1169

220
12

Watt =

W =

273

289

341

352

368

394

446

457

483

641

798

956

1061

1166

1323

256
14

Watt =

W =

304

322

380

392

410

439

498

509

539

714

890

1065

1182

1299

1475

292
16

Watt =

W =

336

355

420

432

452

484

549

562

594

787

981

1175

1304

1433

1627

328
18

Watt =

W =

367

388

458

473

494

529

600

614

649

860

1072

1284

1425

1566

1777

364
20

Watt =

W =

399

422

498

514

537

575

652

667

705

935

1165

1395

1549

1702

1932

400
22

Watt =

W =

431

455

538

555

580

621

704

720

762

1010

1259

1507

1673

1838

2087

436
24

Watt =

W =

459

485

574

591

618

662

750

768

812

1077

1342

1606

1783

1960

2224

472
26

Watt =

W =

492

520

615

633

662

709

804

823

870

1153

1437

1721

1910

2099

2383

508
28

Watt =

W =

523

553

654

674

704

755

855

875

926

1227

1529

1831

2032

2234

2535

544
30

Watt =

W =

554

586

692

714

745

799

905

927

980

1299

1619

1938

2151

2364

2684

580
32

Watt =

W =

583

617

729

752

785

841

953

976

1032

1369

1705

2042

2266

2490

2827

616
34

Watt =

W =

612

647

765

788

823

882

1000

1023

1082

1435

1788

2141

2376

2612

2964

652
36

Watt =

W =

639

676

799

823

860

922

1045

1069

1131

1499

1868

2237

2482

2728

3097

688
38

Watt =

W =

665

704

832

857

896

960

1088

1113

1177

1561

1945

2329

2585

2841

3225

724
40

Watt =

W =

691

731

864

890

930

996

1129

1156

1222

1621

2019

2418

2684

2949

3348

760
42

Watt =

W =

715

756

894

922

963

1032

1169

1197

1265

1678

2091

2503

2778

3053

3466

796
44

Watt =

W =

739

781

923

952

994

1065

1207

1236

1307

1733

2159

2585

2869

3154

3580

832
46

Watt =

W =

764

808

954

984

1028

1101

1248

1277

1351

1791

2232

2672

2966

3260

3700

868
48

Watt =

W =

788

833

985

1015

1060

1136

1288

1318

1394

1848

2303

2757

3060

3363

3817

904
50

Watt =

W =

811

858

1014

1045

1092

1170

1326

1357

1435

1903

2371

2839

3151

3463

3931

940
52

Watt =

W =

834

882

1042

1074

1122

1202

1363

1395

1475

1956

2437

2918

3239

3559

4040

976
54

Watt =

W =

856

905

1069

1102

1152

1234

1398

1431

1514

2007

2501

2994

3323

3652

4146

1012
56

Watt =

W =

877

927

1096

1130

1180

1264

1433

1467

1551

2057

2563

3068

3405

3743

4248

1048
58

Watt =

W =

897

949

1121

1156

1208

1294

1466

1501

1587

2105

2622

3140

3485

3830

1084
60

Watt =

W =

917

970

1146

1181

1234

1322

1498

1534

1622

2151

2680

3208

3561

3914