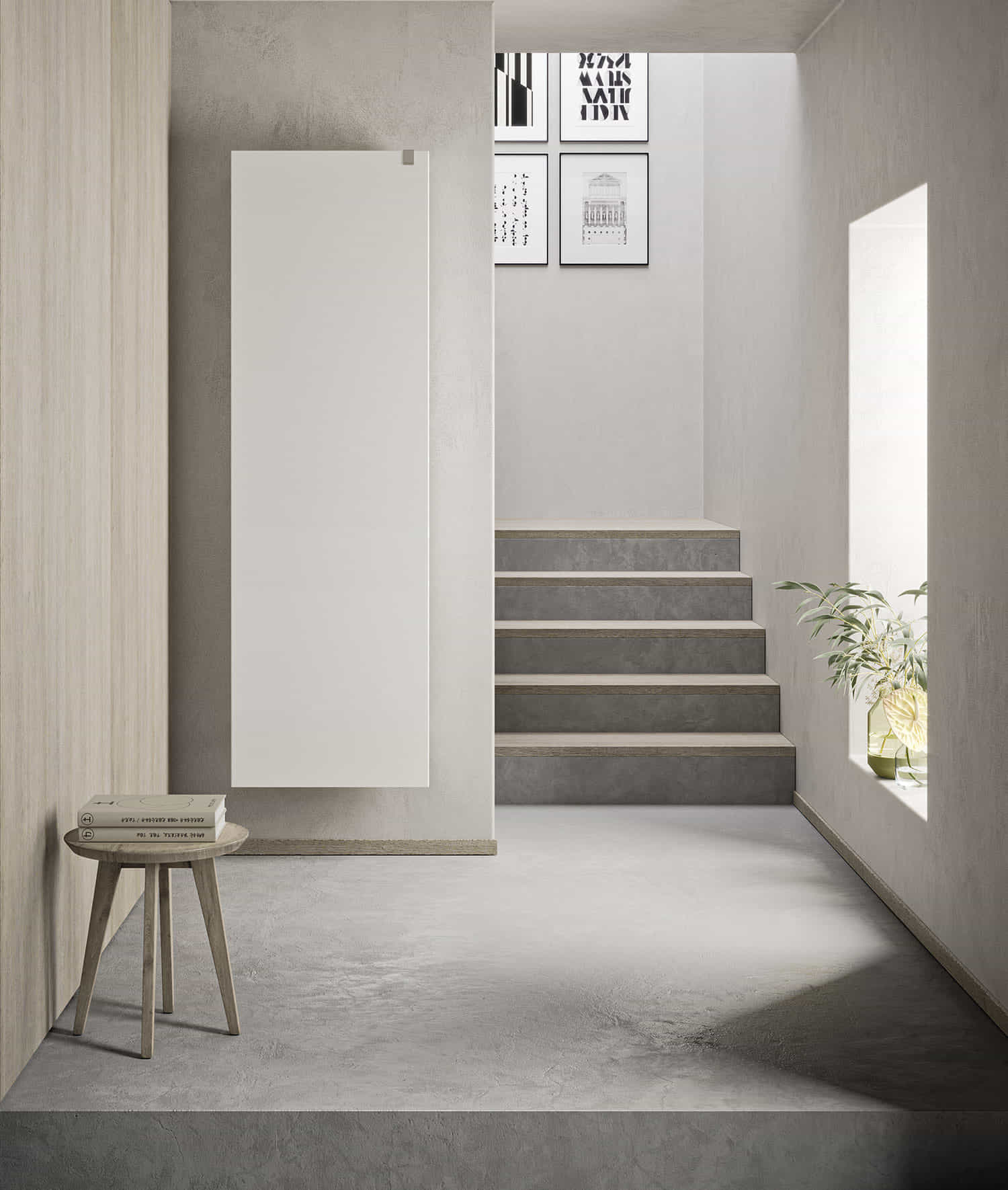 Relax Power şi Over Power sunt disponibile în: 2 adâncimi 47,5 şi 63,5 mm; 5 variante de înălţime, de la 688 la 2163 mm; 7 variante de lăţime, de la 381 la 1401 mm; puteri termice de la 541 la 2519 Watt.
Caracteristici Tehnice
placă radiantă
filetarea 50 mm de M24 x 19
presiunea maximă admisă 10 bar
temperatura maximă admisă 95°C
pe calorifer poate fi instalat un cap termostatic opţional
ESSENTIALITY
Essential design, decided lines, shapes that integrate and become successful, thanks to the refined finishes, this is the true character of Relax.
FUNCTIONALITY
The chrome plated steel towel rail (optional) transforms the radiator into a convenient towel holder, ideal for the bathroom.
Culori e finisaje
| Model | Deph  (mm) | Height (mm) | Width (mm) | Conn. C. (mm) | Weigth (kg) | Capacity (lt) | Δt=60°C (Watt) | Δt=50°C (Watt) | Δt=40°C (Watt) | Δt=30°C (Watt) | Δt=20°C (Watt) | Exponent |
| --- | --- | --- | --- | --- | --- | --- | --- | --- | --- | --- | --- | --- |
| 688 x 1061 | 63,5 | 688 | 1061 | 45 / 100 | 27,50 | 7,30 | 1.393,0 | 1.108,0 | 837,0 | 584,0 | 351,0 | 1,255 |
| 688 x 1197 | 63,5 | 688 | 1197 | 45 / 100 | 31,00 | 8,30 | 1.571,0 | 1.250,0 | 945,0 | 658,0 | 396,0 | 1,255 |
| 688 x 1401 | 63,5 | 688 | 1401 | 45 / 100 | 36,10 | 9,80 | 1.839,0 | 1.463,0 | 1.106,0 | 770,0 | 463,0 | 1,255 |
| 688 x 653 | 63,5 | 688 | 653 | 45 / 100 | 17,30 | 4,40 | 857,0 | 682,0 | 515,0 | 359,0 | 216,0 | 1,255 |
| 688 x 857 | 63,5 | 688 | 857 | 45 / 100 | 22,40 | 5,90 | 1.125,0 | 895,0 | 676,0 | 471,0 | 283,0 | 1,255 |
| 868 x 1061 | 63,5 | 868 | 1061 | 45 / 100 | 35,10 | 9,40 | 1.740,0 | 1.381,0 | 1.041,0 | 723,0 | 433,0 | 1,266 |
| 868 x 1197 | 63,5 | 868 | 1197 | 45 / 100 | 39,50 | 10,70 | 1.963,0 | 1.558,0 | 1.174,0 | 816,0 | 488,0 | 1,266 |
| 868 x 1401 | 63,5 | 868 | 1401 | 45 / 100 | 46,00 | 12,60 | 2.298,0 | 1.824,0 | 1.375,0 | 955,0 | 572,0 | 1,266 |
| 868 x 653 | 63,5 | 868 | 653 | 45 / 100 | 22,00 | 5,70 | 1.071,0 | 850,0 | 641,0 | 445,0 | 266,0 | 1,266 |
| 868 x 857 | 63,5 | 868 | 857 | 45 / 100 | 28,60 | 7,50 | 1.406,0 | 1.116,0 | 841,0 | 584,0 | 350,0 | 1,266 |
| 1663 x 381 | 63,5 | 1663 | 381 | 45 / 100 | 25,60 | 6,40 | 1.174,0 | 928,0 | 696,0 | 480,0 | 284,0 | 1,291 |
| 1663 x 517 | 63,5 | 1663 | 517 | 45 / 100 | 34,30 | 8,90 | 1.595,0 | 1.260,0 | 945,0 | 651,0 | 386,0 | 1,291 |
| 1663 x 653 | 63,5 | 1663 | 653 | 45 / 100 | 43,10 | 11,40 | 2.013,0 | 1.591,0 | 1.193,0 | 823,0 | 487,0 | 1,291 |
| 1963 x 381 | 63,5 | 1963 | 381 | 45 / 100 | 30,10 | 7,50 | 1.339,0 | 1.060,0 | 796,0 | 551,0 | 328,0 | 1,281 |
| 1963 x 517 | 63,5 | 1963 | 517 | 45 / 100 | 40,50 | 10,50 | 1.818,0 | 1.439,0 | 1.081,0 | 748,0 | 445,0 | 1,281 |
| 1963 x 653 | 63,5 | 1963 | 653 | 45 / 100 | 50,80 | 13,60 | 2.295,0 | 1.817,0 | 1.365,0 | 944,0 | 562,0 | 1,281 |
| 2163 x 381 | 63,5 | 2163 | 381 | 45 / 100 | 33,20 | 8,30 | 1.470,0 | 1.164,0 | 875,0 | 606,0 | 361,0 | 1,279 |
| 2163 x 517 | 63,5 | 2163 | 517 | 45 / 100 | 44,60 | 11,60 | 1.995,0 | 1.580,0 | 1.188,0 | 822,0 | 490,0 | 1,279 |
| 2163 x 653 | 63,5 | 2163 | 653 | 45 / 100 | 56,00 | 15,00 | 2.519,0 | 1.995,0 | 1.500,0 | 1.038,0 | 618,0 | 1,279 |
Graţie prestaţiilor ridicate ale corpurilor încălzitoare Irsap Relax Over Power, se consideră ideale pentru proiectarea la joasă temperatură un Δt la 30°C
Pentru Δt ≠ de 60˚C utilizaţi formula: Q=Qn (Δt / 60)n
Standard equipment
• sistem ascuns de conexiune hidraulică, inovator, instalat pe produs, dotat cu racorduri de cupru (diametre 12, 14 şi 15 mm) multistrat (14 gr. 2 şi 16 gr. 2), • sistem pentru fixarea pe perete • aerisitor • şablon pentru instalare
Name
Type
Download

RELAX_OVER_POWER

3D models

3D models